Turron
Turron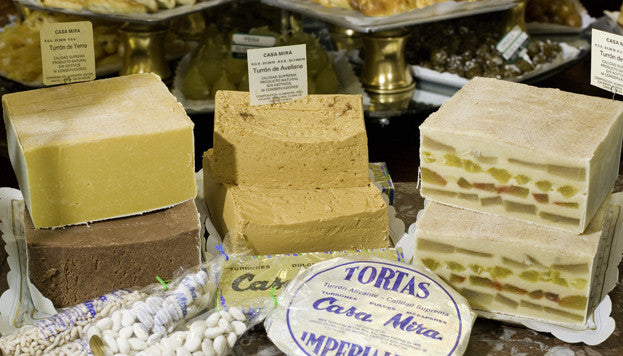 Turron, Marzipan and other Christmas desserts in Spain
This year, I am going to the U.S. for Christmas to visit my family. I was trying to think of something I could bring to share with everyone that is very representative of Christmas in Spain. I´ve got the perfect gift. Turron. It travels well, it´s not a liquid and it doesn´t go bad in two days.
What is Turron my family will ask? The name is most likely derived from the latin term torrere (to toast). It´s origins date back to the early centuries when Spain was conquered by the Muslims. The Muslims had a similar dessert called Turun. The ingredients are the most important clue to the Arabic origins consisting of honey, sugar and egg whites with a variation of different types of nuts including almonds, pine nuts and hazelnuts. Another important element to consider, explained to me by the owner of, Horno La Santiaguesa, a famous bakery in Madrid, is that during the early centuries in Spain, there was no way to keep food cold and the main ingredients found in turron, did not need refrigeration. That was typical of many culinary specialties as the Spaniards mastered the art of food preservation whether it was salting or drying methods, oil or vinegar.
Most countries including the U.S. have a traditional dessert or many that they serve at Christmas time. In Spain, Turron is the most typical and common in every Spanish household. I describe it as our equivalent to fudge. The varieties are endless with different consistencies and appearances but there are a few famous ones you should be aware of.
The hard one that is white, and chalk full of almonds is referred to as Alicante. It is very similar to our peanut brittle but with almonds. The soft one, referred to as Turron Blando is a combination of almonds and honey that is been cooked into a sticky paste. While that doesn´t sound very appealing, a good one from Jijona, will melt in your mouth and you will be coming back for more as it is quite exquisite. One of my absolute favourites is Yema tostada which is a wonderful combination with egg yolks as well. Try all three as they are very different from eachother and give you a good idea of the variety. If you go to Casa Mila in Madrid, one of the most famous shops for good turron, you will find many versions that will suit just about any kind of sweet tooth including those for chocolate, coconut and candied fruits. If you don´t make it to Casa Mila either due to geographical limitations or the fact that you don´t want to battle the crowds, there are many other vendors selling Turron this time of year. Every supermarket, large or small has something in stock. Every bakery carries at least a couple. If you find you don´t have even an ounce of space left in your suitcase, try La Tienda.com in the States. They carry quite a few and they make for very nice gifts.
How is turron served? As turron is very sweet and decadent, you take it in small bites. My Spanish mother in law, Elena, does a beautiful presentation every year on her best silver platter. You cut the turron into little pieces and squares and piece them together until you get a gorgeous mosaic of all the different types to choose from. Everyone has a favourite. Don't forget some of the other important contributions to the Spanish Christmas dessert platter. Marzipan is another almond dessert most famous from Toledo, with the brand name of Santo Tome. I would say this is the version we are more familiar with and a delicacy with long and well respected tradition. Don´t forget the beautifully packaged polvorones and if accompanied by amateurs, you must give instruction on how to smash it down so the cookie does not crumble when eaten. Finally, if given the chance you must try the Frutas Confitadas, also sold in Casa Mila. It has taken me 10 long years to earn my addiction for these wonderful juicy candied fruits and it is the first treat I reach for on the platter. Banana, melon, orange, cherries, plums, whatever you fancy, these little fruits are just as divine as they are expensive, but they are worth it.   What do you do with the leftovers? That is the best part! After 1,2, 3, 6 days, they are still in good shape and keep eating from through New Year´s and up until Reyes. Then it is time for Roscon and that I will save for another article! Enjoy!