Two days in Seville
Two days in Seville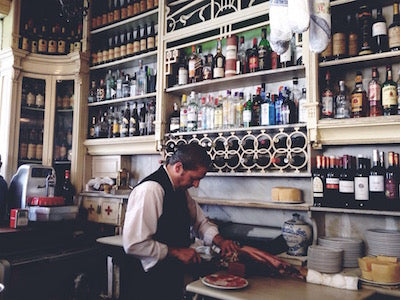 Although I am a big fan of all Spain, there is nothing quite like Andalucía. Andalucia is second only to Catalonia (Barcelona region) in tourism, offers some of the best weather in all of Europe, and has enough points of interest for my life here to feel like one extended holiday. In this article I concentrate on things to do in Seville.

After almost 8 years in Madrid, I decided to make the move to the south, the land of tapas, flamenco, siestas and bull fighting. While the strain of my 9 to 1 office job is stressful, I still manage to find the time to explore. It has been a daunting task thus far, as Andalucía's major attractions include natural parks and beautiful scenery as well as romantic cities and charming towns. Residing in the countryside, however, I find myself mostly drawn to the buzzing sounds of city life.



My first weekend excursion was straight to Seville, which sounded like clinking silverware, steaming milk, and a mix of Spanish/Japanese/Italian/Portuguese/English/French. Once the economic centre of Golden-age Spain, Seville's rich history has turned it into one of the main tourist destinations in the country. After a quick café con leche upon arrival, I followed the throngs of tourists and their guides into my first destination- the Royal Alcázar of Seville. Used as a royal residence since the 10th century, this impressive palace in Mudejar style has seen many important events, such as the birth of Isabel and Ferdinand's only son Prince John, as well as the wedding of emperor Carlos V and Isabel of Portugal. A guided tour can give you significant insight into the lives of the many royal families that have lived here over the years. Afterwards, make sure to stroll through the walled palace gardens, looking for the pet peacocks and inhaling the scents of ever-blossoming jasmine and fallen oranges. One can spend hours wandering the elaborate complex and gardens, and it is highly recommended. Rarely is such a historic building given almost free-reign to tourists.

For lunch (and on recommendation by a local) I headed to a tavern called El Rinconcillo (the little corner). Since 1670 this establishment has been well known to locals and on the weekends is full to the brim. Unable to get a place in the high-ceilinged, elegant dining room, I squished myself into a 2x2 ft. space in the corner of the bar. This was perfectly acceptable and even encouraged as guests and waiters alike were cognizant of elbows, precariously perched wine goblets and empty plates. A classic place for tapas in Seville, I could have stayed just to 'open my appetite' (as they say here) but the meat and bean stews and thick slices of manchego cheese tempted me to ask for several other dishes. As I munched my dishes and washed them down with sips of Sherry, I watched the waiters slicing off pieces of cured Iberian ham. My tab, which had been recorded with chalk and much precision on the bar's countertop, was not even too shocking.
I'd like to say that this very afternoon I went for my second big attraction, Seville's Cathedral, but when in Andalucia……… the afternoon consisted of a creamy gelato, and a stroll across the city street performers and shaded squares. I ended the afternoon leisurely watching a variety of activities unfold on the Guadalquivir River. 
The spectacular Seville Cathedral is not only impressive in size, but also famous for housing the remains of Christopher Columbus, which have apparently crossed the Atlantic almost as many times as he did. (One of our guided tours will give you the whole story). Climb the minaret-turned bell tower, and take in the panoramic views of Seville and the surrounding countryside- it never fails to impress!

Other interesting things to see in Seville include: the General Archive of the Indies (an informational hub and museum for everything related to the Spanish colonies in America), the 13th century military watchtower called the Torre del Oro; and the colourful Plaza de España- a massive building and picturesque square built for the 1929 Iberian-American Exposition.


That weekend I didn't even see any flamenco, and the only bull fight I saw (not by choice) was in a bar where one of the locals refused to change the TV channel. With so many sights, sounds and smells, Seville is definitely worth a second and a third visit. To find out how more on things to do in Seville, contact our professional tour guides or browse our Seville Tours or check out our 7 days in Andalucia package including guides, transportation between cities, reservation of tickets, drivers, and convenient and charming 4 star hotels.
 By Jenna Randall Hill