Spanish Vegetables
Spanish Vegetables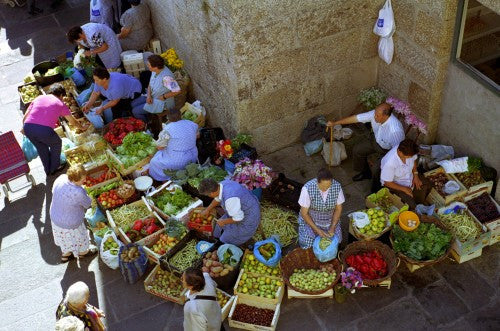 Where are the Spanish Vegetables?
Myth: Hard to get vegetables in Spain
I recently had a tour with clients and it made an impression when one of them asked me after travelling through Spain for a week,  ¨ Where are the vegetables?¨ This client was complaining about too many fried foods and not enough ¨healthy choices.¨ Quite frankly, it hurts to hear this as the variety throughout Spain is endless and the diversity is exquisite, especially when focusing on all that is in season.  I decided to look into the subject a little more to get a sense of truths about the veggie tourist seeker on a quest for vegetables around Spain.   As an American living in Madrid, admittedly, vegetables were not as easy to come by on the tourist menu 10 years ago.  The good news is that many new restaurants are sprouting up that not only offer a wide variety but market it well for those who want to enjoy more creative ways to eat their greens.
My main message is the following; the vegetables have always been in Spain and will continue to flourish and nourish long after I am gone. It is just a question of knowing where to find them. If you stop any Spaniard on the streets of Madrid and ask them,¨ Where are the vegetables?¨ After initial confusion in trying to interpret what this crazy tourist is trying to ask, likely they would shrug their shoulders and tell you, ¨ vegetables are everywhere.¨ I realize after living here for 15 years, we are the naïve ones, the clueless tourist that just need to look a little closer to find the true greens……..and many other colors of vegetables too, by the way.
I am also writing this article for all of those visitors who will be here for temporary stays and sincerely have an interest in broadening their tastebuds for some of the famous veggies that people keep boasting about.  One of the main reasons we started our Madrid tapas tour was because our historic tours were continuously filled with questions from clients about food.  We realized that visitors were only tasting a fraction of what is offered in terms of good, local and traditional cuisine. Vegetables play a major role in the culinary world as they can be the base of any good dish and help to complement and bring out the flavors of the hearty and robust meats, delicate fish and divine seafood.  Ask any chef and they will confirm this.  One could even go so far as to say, it is one of the culinary secrets of a good chef in Spain.  The vegetables and their distinct flavors can make a dish and now, for some chefs, the protein has taken a back seat to their vegetable counterparts as the vibrant colors and exotic flavors of the vegetable can really add to the presentation. 
Here are some great ways to discover your veggies around Spain.  The first is to start with the vegetarian restaurants.  Now, it is important to say, I am not a vegetarian and never have been.  Step into any reputable vegetarian restaurant with a well known chef at the helm, and you may convert yourself.  I am not kidding.  I learned early on in Spain, the vegetarian chefs have the biggest challenge and they go all out to expose their flavors and the best part is that they have a lot of beautiful raw resources to work with as many of these veggies are grown right on the mainland and they are able to use what is fresh and in season. Nothing less than outstanding are the vegetarian restaurants reviews, and in the bigger cities, if you do a quick google search, you will see they are now everywhere and in high demand and some even with waiting lists.  Get out.  Really?  Yes, really.  I have sent my own non vegetarian clients and they were so happy they went!
Gourmet markets.  They are now very popular and practically on every street corner in the larger cities.  With the popularity comes a higher price tag, but it is worth it.  In some cases, they have become so popular, it is a social seen more than a place to buy your everyday staples. You will find your veggies, readily displayed, reasonably priced and so delicious, you can dig in after a quick wash.  Mercado de San Miguel in Madrid has preserved one of the prettiest displays.  You won´t miss it located right next to Plaza Mayor.  If not, check out our Madrid markets walking tour and we will introduce you to some of the our best veggie secrets.
Be sure to read up on your regions.  You are in for a big surprise of how much you can learn from important contributors of veggies, like the abundant and fertile regions of  Navarra and Galicia.  From Pimientos de Padron to the Tolosa beans to Judiones de la Granja to Asparagus, peas and other greens from Tudela, you will have so many selections to try, you won´t be able to taste them all.  Some restaurants in Tudela offer vegetable tasting menus of several courses. By the way, it would be a crime to come to Spain and not sample the big fat white asparagus with a little bit of homemade mayonnaise on the side. 
Finally, in a pinch, here is a little tip.  After 15 years of living in Spain, I have never experienced a restaurant that did not serve your fresh Ensalada mixta, the most basic staple of salads consisting of iceberg lettuce, tomato, carrot and occasional olives.  Don´t be intimidated by having to dress the salad yourself.  Salt first, then vinegar, then olive oil.  Don´t be stingy, they don´t charge extra if you use generous amounts to flavor it up! 
Another tip. Most restaurants will serve some kind of vegetable platter. Una parrillada de Verdura (grilled vegetables)!  Usually consisting of asparagus, tomato, onion and sometimes eggplant.  If that is not on the menu, ask for the Pisto.  A delicious marriage of all kinds of roasted vegetables blended together with olive oil. Delicious.
So the question is not ¨where are the vegetables¨ but rather, ¨How do I ask for them¨   Just look around, they are everywhere!