Christmas in Madrid
Christmas in Madrid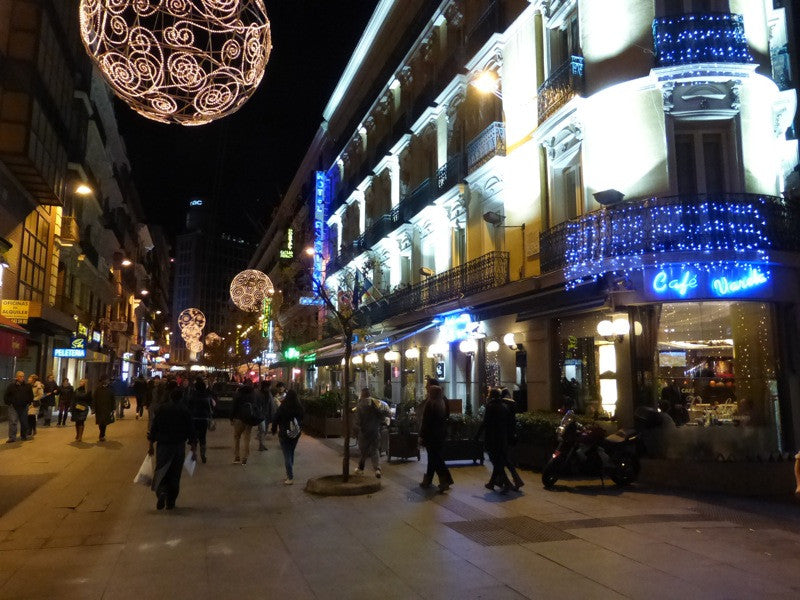 This article is about our top 10 things to do for Christmas in Madrid with kids
We are getting quite a few people inquiring about Christmas in Madrid, so I thought I would take a moment to write about some good information and tips that will prove to be helpful. Christmas in Madrid is lovely. The city goes all out to decorate and make visitors feel a festive welcome with the beautiful lights and Christmas trees set up all over town. I am an American living in Madrid and have actually spent 8 of my 10 Christmas´s in Madrid, accompanied by my 9 year old son and 6 year old daughter. What can I recommend?
Here is my top 10 list of things to not miss during Christmas. Two important points before I begin. Remember that the kids in Spain have about 3 weeks for Christmas break. There are many things organized for kids and you will even find activities that are excellent and free. Inquire at the tourist office where they speak English. Spaniards too, are racking their brain for ideas of how to entertain the little ones or bigger ones outside the house. Having said that, I will also remind readers that the early bird gets the worm. If there are tickets for any kind of event, they will sell out quickly, so visit as many sites as you can provided by the office of tourism in Madrid.
1. Make it a point to inquire at the tourist office to get the list of the Belenes or Nativity Scenes around town. This is something special that the Spaniards take very seriously, some who even make a living off this unique art form and dedicate the entire year to this one month of presenting scenes of the Creche. Collect unique pieces for your own Nativity back home or go to admire the mastery of this beautiful tradition in the Christmas market in Plaza Mayor. It does not stop there. Find out all the amazing places that the city presents the Belen whether in the City Hall or the smaller shopping centers, Churches, or public plazas. You can see why 20 years ago and still to this day, some Spaniards opt out for the Christmas tree, because when the lights go out and the candles are lit for the Nativity, there is nothing quite like it!
2. Speaking of Plaza Mayor, this gorgeous plaza is not to be missed at Christmas time. You decide the time, preferably during the week during business hours when most Spaniards are working and there are less people to wrestle with to see the Nativity displays. No, you don´t have to buy anything, just enjoy people watching. What are the crazy colored wigs for and their significance? If you asked a Spaniard, they wouldn´t really know what to tell you. I suppose a moment for the more serious ones and the teenagers and kids to get a little crazy. I recommend using your money much more wisely on a cup of chocolate at the nearby San Gines.
3. As San Gines Chocolateria is only a 6 minute walk away from Plaza Mayor (Cross Calle Mayor), and the chocolate and churros are made on the spot, therefore hot and ready to warm you on a chilly Christmas day, this is probably in the top 5 of my top 10. This is a real favourite of the tourist and the Spaniards, so prepare for crowds and sometimes a wait but it is worth it and you may even return for a second round as this is not just hot chocolate, this is dense, dark melted chocolate that will win you a prize if you can finish the entire cup by yourself. Believe it or not, my 9 year old can. By the way, people always ask, what are the rules? There are no rules when it comes to this divine little cup of heaven with a crispy donut to dip inside! Just dig in and hopefully if you get caught double dippin´, you won´t get stuck with the bill! They serve coffee, tea and water and some other treats but little else. You will see why. By the way, to clear confusion, this is a prepay place. When entering, you must pay first for what you want, you take your ticket to your table and the waiter will collect the ticket and serve. Here is how you ask, ¨ una taza de chocolate, por favour.¨ Also know that they serve the churros in what is called Raciones. Un racion is about 5 or 6 churros. If you are two for example, an appropriate amount is one cup and two rations. Enjoy!
4. This recommendation is a brief one as it is totally dependent on what is offered every year and season and also depends on the level of tolerance of your kids to sit through a concert. In my opinion, it is a must to inquire at the tourist office about concerts that are going on around town. They can be conducted outside or inside, often times in Churches. Sometimes, there are music concerts specifically for kids with a duration that they can endure. Inquire with the Caixa Forum as well. They have great productions at this time. Tickets sold in advance.
5. A visit to Retiro Park on Sunday. This is a day for families and the best part in the mornings before lunch, you find many street entertainers, whether musicians or puppeteers, who are featuring a 20 minute show just for kids. Ok…..it is in Spanish, but it is a lot of fun to join in on the animation of the crowd. Your kids will really feel a part of the scene. There are cafes where you can sit down and have a coffee or you can walk for forever in this lovely city park.
6. Christmas evening bus. Again, this is a service that is only offered at Christmas time and you will have to inquire at the Tourist office in Plaza Mayor about operating hours (approx. 6pm to 10pm) and where the bus departs from. I have heard very good things about this service and the beauty is that you will be able to enjoy the city views at night lit up by all of the Christmas lights. Beware of long lines.
7. Calle Serrano is our Fifth Avenue for Shopping. If you take the bus #45 or #27 north of Paseo del Prado, get out at Plaza Colon, Serrano is one street behind. You can also walk from the Retiro to the beginning of Serrano. Lovely to window shop and see all the Christmas decorations. Who knows, you might find something that will suit your last minute Christmas shopping needs. Stop in Café Mallorca for something fast and delicious to snack on.
8. Flamenco show in Villa Rosa. This is a newer venue that is located right in Plaza Santa Ana. It is the bar to the right of the big beautiful while Me hotel with all of the fancy tiles. The show begins around 8:30pm and the entrance to watch the show is €10 per person. The beauty is you can have a drink, coke or even tapas while you are enjoying the show. While not the most Christmasy of ideas, it is a bit of culture and very much a part of the Spanish tradition and the kids should be exposed at least once. It is informal and you can leave after the break if you have had your fill.
9. Christmas Mass. I understand that not all visitors are religious but I have a lot of people who ask and since Spain is a very Catholic country, I thought I might mention ideas around going to a mass at Christmas time. In this city, you have your choice of beautiful churches, from a Cathedral to something more modest, dating from the 16th century to something more modern, there is no shortage of churches in this city. If Christmas Eve mass is what you are looking for, you will be sure to find it. Likely on Christmas Eve, there will be several so try to find a church in advance and then inquire to find out mass times, likely on the hour. Christmas day is the same, there will be many masses so inquire about the hour. Know also that there is en English speaking church in Madrid that is part of the Catholic Archdiocese called Our Lady of Mercy. It is farther out so you would have to probably take a couple metros but the mass is conducted in English, is a very warm setting and they usually have a Christmas pageant for the children. If you want more info, contact me at jen@letango.com.
10. Visit to Casa Mila located on Carrera de San Jeronimo. This is a hidden jewel know well by the Spaniards holding some of the most important delicacies of the Christmas holidays. Homemade Turron (our equivalent to fudge) is abundant as well as candied fruits and chocolates. Try a little bit of everything. No Spanish household goes without these treats this time of year. My mouth is watering just thinking about it. Don´t be shocked by the price per kilo. As I said, this is the best that Madrid has to offer!
11. Ok ok, it was top 10 but I forgot one important one! Cortelandia (Corte Ingles Department Store)in Puerta del Sol. About every hour, there is a Christmas presentation for kids that lasts about 15 minutes on the entire face of the wall of the huge department store. It gets crowded, so watch out for the pick pockets. Go to Corte Ingles and ask at information or go to the back entrance where you can enter off of Calle Arenal. By the way, you won´t see too much of Papa Noel here. Our presents come from the three Kings who magically appear on the 5th of January, the eve of Los Reyes. It would be good to study the history and explain it to your kids.
Feliz Navidad!