San Fermin Pamplona
San Fermin Pamplona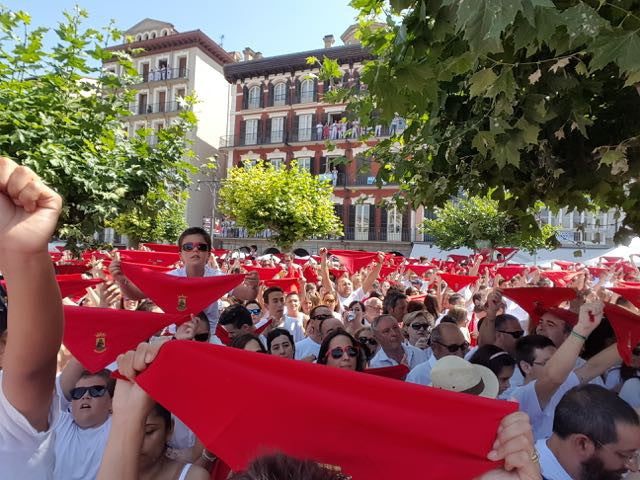 A Three day account during San Fermin in Pamplona for the Running of the Bulls festival, made world famous by Ernest Hemingway.
For anyone who is looking for a thrill, and quite possibly one of those experiences you may say can be ¨once in a lifetime,¨ I wanted to share my experience of 3 days in Pamplona for the Running of the bulls. It happens once a year starting on every 6th of July. It takes place in Pamplona Spain in the north, near the Basque country in a region called Navarra. While San Fermin in Pamplona has captured worldwide fame, the funny thing that the world is not aware of is that there are many cities in Spain that do some form of the Running of the Bulls. It is not restricted to Pamplona. From tiny pueblos (been there and experienced it) to larger cities, bulls play an important role in the festivals usually signifying the change of seasons.
In the 1920´s, Ernest Hemingway, shed light on this very special event through his novel of the S
un Also Rises, and ever since, people have been travelling from all over the world to experience this amazing celebration in Pamplona.  

I realize some may think this is an experience only for the young and for those ready to put on their sneakers and brave the massive bulls running the downtown streets of Pamplona. Neither applies actually. I am a middle aged mom who went in with no expectations of San Fermin in Pamplona, other than I was going to do all I could to avoid the bulls and otherwise, have a great time. Needless to say, my expectations were exceeded, and then some, and it actually took me about 3 days to come off my cloud of thrill. It goes without saying, I enjoyed the trip and in reflection, was so happy I decided to do it. I was in the company of my husband Carlos who is from Madrid but has never ¨run with the bulls.¨
It was pure circumstance that drew us. We had an appointment with Bob Dylan in Zaragoza (great concert by the way) and knowing we were going to be so close and have never been to the Fiestas of San Fermin Pamplona, we felt destiny calling. We were also free of kids as we had left them in a summer camp days before. Probably not a bad idea as San Fermin, while in some aspects can be very family friendly, there were moments, I was very glad my kids were not present. You just have to pick and choose the scene. Read on and you will understand what I mean.
We started with a bang literally. Carlos and I were in touch with a Navarran company that handles events and this was their specialty. We arrived from Zaragoza at approximately, 10:00am, and knowing their was a strict dress code for the festivities, quickly asked directions to a nearby shop selling all the attire that was a requirement if you wanted to participate. Literally. The beauty is if you are a tourist, you fit right in. With your outfit, nobody knows if your Amerian, Spanish, Dutch or British. The attendants in the store were very nice and gave us a 101 in San Fermin garb from the white shirt and pants to the sache that goes around the waste and most important, the red bandanna that could not be placed around your neck until 12:00 noon that day when the fiestas officially began. Whew! Enough rules to make me think I was in school again! Who were we to question? We quickly fastened the scarf around our wrist (as every local does) so we avoided losing it and being cast out of Pamplona, God forbid. We left the attendent with a thank you and her final words describing the scene in Plaza Mayor.........¨es una locura.¨ Translation.......¨It is crazy.¨ Those words would not describe what I saw in full form, but read on.
We get a phone call from our contact with the Navarran tour company. Come quickly to Plaza Mayor where the Chupinazo will take place and you can capture a view of the plaza in one of the most exciting moments of the year. There were so many people in the streets, it was hard to navigate but Carlos led the way and I held on. We arrive to the plaza. OMG as my nine year old daughter says often. I kept repeating those words. It was like one great big Frat party out of the scene of  Animal House. Average age........20 something. Everyone in white with compliments of red. The white however, was no longer white, as it had been drenched with sangria that was flying everywhere.
Our brand new purchase was about to turn pink. We quickly made our way to the front door of the building where our contact would meet us. Wine, water, sangria flying through the air. Wet hair and bodies everywhere, people laughing, people partying, people going absolutely nuts. It was surreal, like a scene from a movie. Every balcony above had onlookers taking in the action. Oh, the police prohibit glass and bottles. Thank goodness. So the choice drink of the day is Don Simon Sangria contained in a very convenient plastic bottle that were being periodically juggled in the air. Don´t believe me? Type in Chupinazo in google and check out images. Oh ya. That summarizes it.
From the balcony, you can see the pandamonium from above. The Chupinazo is the official opening of the ceremonies of San Fermin. Day 1 before the first running of the bulls. None other than the Mayor of the town has the honor of launching the festivities. You could equate it to the opening of the Olympic games but Pamplona style and with a
 lot more wine flowing. It is quite a scene and hard to describe. If you watch close, you will be able to identify the locals who sing and chant with a pride in their eyes. A familiarity that brings them home again and carries this long tradition that separates the Navarrans from the rest. San Fermin. It is true that over the years, this ceremony has evolved. I imagine even 30 years ago, this was much more subdued and now you have young and middle age people from all over the world that come to see the spectacle. You can hear 50 languages spoken just standing in the square and walking the streets.
Believe it or not, this whole opening spectacle all takes place before noon. After that, what can I say, party! This is where my husband and I dismissed ourselves to return to the quite tranquil comforts of our out of town hotel. We stayed in a welcomed quiet pueblo located 10 minutes drive from the city center of Pamplona.   Our car came in handy for this purpose.  We knew that we had to be up at 04:30 in the morning the next day if we wanted to catch a glimpse of the actual ¨encierro¨ or first running of the bulls.
One of the first thoughts that came to me the next morning was how do people possibly get up so early to be ready for the running of the bulls after a full night of partying into the wee hours of the morning. I got my answer. Make it simple and easy, don´t go to sleep. Sure beats paying for a hotel. That is it. The majority of participants just don´t go to bed. They go straight into the run. Wow. You can imagine the scene at 5 in the morning. Some parties, from the streets of Pamplona had not yet ended. The music still blasted and some partiers still hung from various windows.

The Run
I must say, the 5am anticipation without even a coffee but plenty of adrenaline while waiting on our balcony was far more exciting than the run itself. Altogether, the highlight lasts seconds. You see them in the distance, a large bundle of heaping testosterone, horns and hooves running your way, and then they are gone. I was pleasantly surprised to see such a diversity of runners from young and old, men and women, all different shapes and sizes out for the event. It gave me confidence to believe I might even be able to pull it off. Luckily, my experience did not come with a goring of one of the bystanders but we heard stories later and saw the video footage of a few incidents that brought lots of injury. Every year, there is someone who underestimates the power and determination of these bulls. Almost every year, someone dies with this miscalculation.
For those you do not want to pay the premium price of a balcony, you have alternatives for a first row seat. You can either run with the bulls or you can go to the stadium where the daily running of the bull ends with the last treacherous turn in a tunnel as they enter the bullring. I was lucky to experience both and absolutely recommend both. The best part of the stadium is that they have large TV screens to see everything. It is also fun as you are mixing with the crowds and there are a lot of people watching as the stadium gets full and you have ¨Post run¨ events including the ¨vaquillas¨ where you have a young teenage bull run around while participants taunt and play with him. It is quite something to see and the children can watch this one. In this one, fortunately, the bull gets to live. 
Overall, my 3 days in Pamplona was exhausting but amazing. It will, without a doubt, be one of the most exciting experiences of my life. I went in with an open mind, and it filled all of my senses. Between the culture, the celebration, the long traditions and warm locals, the fun atmosphere and ability to easily meet people on the streets, the music, the divine food, I absolutely could not have asked or more.
Without going into too much detail, we ended up meeting a large group of locals from Pamplona who took us in and played delightful, fun and and generous hosts to us. How did we meet? One discovered I was American and told me he loved America and invited me to a shot of cava champagne from a little glass that hung from his neck.   A great bonding experience and now, we have friends to return to in Pamplona.
If you are looking for adventure, an authentic experience and a chance to be a part of something you will never forget, go to Pamplona and see for yourself. Oh, and practice these words.......Viva San Fermin!!!!

For our crafted 3 day package visit Running of the Bulls