Cities in Spain
Cities in Spain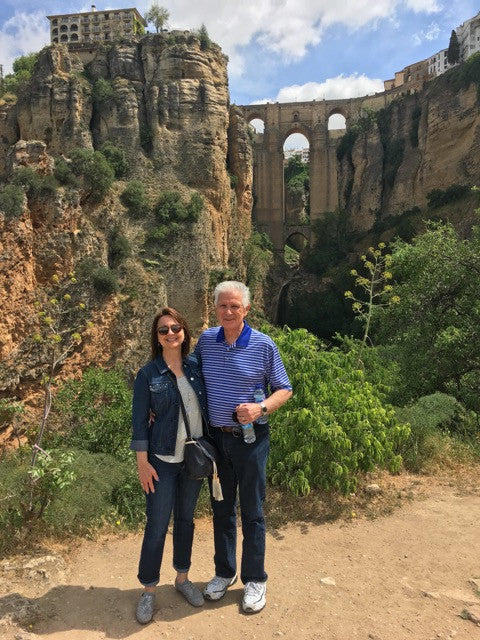 For our clients who are travelling to Spain for the first time, it is the question most commonly asked.  What cities in Spain should we visit?   As a company who has been in business and bringing visitors to Spain for the past 18 years, we always answer that question with a few questions that are relevant. What do you hope to get out of the trip?  Are you coming with family, kids or just your spouse or an elderly parent with challenges of getting around? Do you already have some destinations set and would you like to add on?  Are you thinking realistically about distances and have you googled the destinations to see how long it will take by car or train? Just like in the USA, there are planes, trains and automobiles in Spain, but all come with a cost in money and time.
If you will be in Andalucia in the South of Spain but you have heard good things about San Sebastian in the north, how much are you willing to pay to see a fabulous city for just 2 or 3 days that will measure a half day travel in the end?  There are many cities in Spain, some very interesting yet touristy, some beautiful and unknown but when you have a limited amount of time and you would like to stay on budget, you need to think logically of how much travel time you want to incur. I like to combine main destinations with smaller ones to have a balance and a better experience all together.
The most important message I can relay is to be realistic and to realize, you can´t do it all.  Spain has been around for thousands of years, under multiple civilisations, Phoenicians, Greeks, Romans, Muslims, Goths..The good news is, anywhere you decide, we believe, is going to be an excellent choice and if you are overwhelmed with the information you find in the travel guides and on the internet, we can always check out our Spain Trip Planner service.  You will be speaking to the experts who know the country inside and out and can help you decipher the overwhelming information. It is so hard to choose and it does not help as you delve further into articles on the web.  Every place sounds so fabulous.  This article will help put things into perspective with 5 major things to think about when choosing which cities in Spain to visit. 
Airport
It is true that there are a few big International airports in Spain.  That puts you at a starting point for flying in or out and is relevant to your itinerary.  For example, if your dream is to explore Andalucia extensively, maybe stop in some white washed hill towns, then the Malaga airport is a fine choice to begin your journey.  If Madrid and its wonderful Art museums and Royal Palace are a must, Barajas airport is your best option.  If Gaudi is calling your name and the Sagrada Familia is at the top of your list, then fly into or out of Barcelona.  All three airports are excellent with great connections to other cities but our recommendation is to consider an open jaw ticket (flying into one city and out of a different city) so you don´t have to spend the money and time getting back to your original starting point.  While an open jaw is usually more expensive, consider the time you save not having to return to the first destination as well as the expense you will incur to do it.
Off the beaten path
There are many cities in Spain but also many smaller towns and villages. It helps in the planning to begin with a map to see the locations.  This is a big country with lots of mountain ranges that make trips longer than it appears. If you are interested in getting to know the back roads of Spain and smaller villages, the possibility of a rental car is a great option.  Freeways are safe and fairly easy to navigate.  Once in a while, there may be a toll, but a lot less than in Portugal. Smaller roads are still good but a lot slower. Lots of places along the freeway corridors to stop for bathrooms and a cold drink.    Make sure though that you bring a GPS or have service on your phone, but remember some remote places do not have great phone service.  It is something to think about when driving in Spain.
Transport around Spain
Trains are always an excellent option when traveling between certain cities in Spain.  If you are taking the AVE high speed train, it will get you there fast and efficient, more comfortably  than a flight if you buy in advance.  The Renfe trains which are different from the AVE will take more time.  Many people make the mistake thinking there is a train for every route. Not true, and it can be expensive to assume that. Inquire with Letango tours for Cities to visit that have easy access to the AVE fast speed trains.
Make sure to go online to Renfe and see the routes.  When you see there is not an AVE for your long distances, it is time to start looking at a flight between cities in Spain.  Check out Ryan Air, Iberia or Vueling.  You may be surprised.  Sometimes, you can get a cheaper flight than a train will cost. 
Big cities vs. Small towns in Spain
You would like to see Madrid and Barcelona but after that, you want to avoid big cities and you want small villages?  Great. Now, how do we get there if there is no major train?  You might be surprised by the efficiency of the buses operating all over Spain.  Believe it or not, it is how most Spaniards transport themselves from city to city as the AVE is very expensive for them. Don´t underestimate the value for the price and the authentic experience of riding with locals and getting a true opportunity to practice your Spanish.  We highly recommend the mix of big city with small town.  It is a great way to see the modern, busy and progressive side of Spain mixed with the traditional, customary, ancient ways of the locals. 
Off the beaten track cities in Spain to visit
There is no question that your research will yield a lot more information on the major tourist cities in Spain.  We find that most of our clients ask for those cities that are the most popular including Barcelona, Madrid, Segovia, Toledo, Cordoba, Granada, Malaga, etc.  Our challenge to you is to consider at least one town, you never thought of or you have not read that much about.  That might be a good sign signifying less tourists, which means less traps and lower prices. If you need some ideas, you can consult Letango Tours website for tour ideas. While some are more difficult to access we offer private car service like de Sevilla to Ronda Transfer that serves both as transportation and a day trip to see Pueblos blancos stopping at an olive mill, traditional lunch and walk around some villages in your way to Ronda. Some other of our favorites for 2017 are the following: Madrid to Cuenca Day Trip in Castilla La Mancha and Ribera del Duero Wine Tour visiting Peñafiel castle en Castilla Leon.  All three are fabulous and despite their ¨off the beaten track¨ status, you can find a lot of info on each from previous travellers to find out if they are a good fit for you.
Last, if your time is limited and you want to prioritize, take a look at some of our example itineraries in our Spain vacation packages section with trip ideas that cover some of the highlights and still include some smaller places.
Stay tuned and I will be sure to write another article elaborating on what each has to offer.
Until then, happy travels through Spain.